I will be active from Rarotonga, Cook Islands IOTA OC-013 from April 1 to April 13, 2013.
This
DX-pedition
will be mostly a vacation but I hope to make a few contacts as well. My call sign will be
E51DXX
and I will be working mostly SSB and digital modes. I created
this filter in DX cluster
to check for possible spots.
I used
VOACAP
propagation planner and online tools to predict propagation from Rarotonga to various other locations. As a starting point I made some assumptions on antennas and transmit power. I will carry a
Buddipole antenna
and two radios (Flex3000 and Elecraft KX3) with me. Prediction was done assuming 100W transmit power, vertical antenna and SSB transmit mode from Rarotonga. For the other stations I assumed 3 element Yagi at 50ft and 100W.
The propagation prediction tables below show that 20M, 17M and 15M HF bands look like the most promising bands this time of the year. The tables show the % probability of the contact and estimated S-unit signal strength for each ham band over 24 hours (Raro / UTC timezones). The best case to US East coast will be S4 signal strength and 28% probability at 20M @07:00 UTC so bare with me and follow the
DX Code of Conduct
please.
I will be working mostly between 18 - 24 Rarotonga time which is 4:00 - 10:00 UTC. Let's see how well this propagation prediction will match with reality.
I hope to make a QSO with you from Rarotonga, Cooks Islands. Thanks for reading this blog. Feel free to leave feedback below.
73
Mauri AG1LE
Here is the CQ Zone map for reference (from EI8IC website).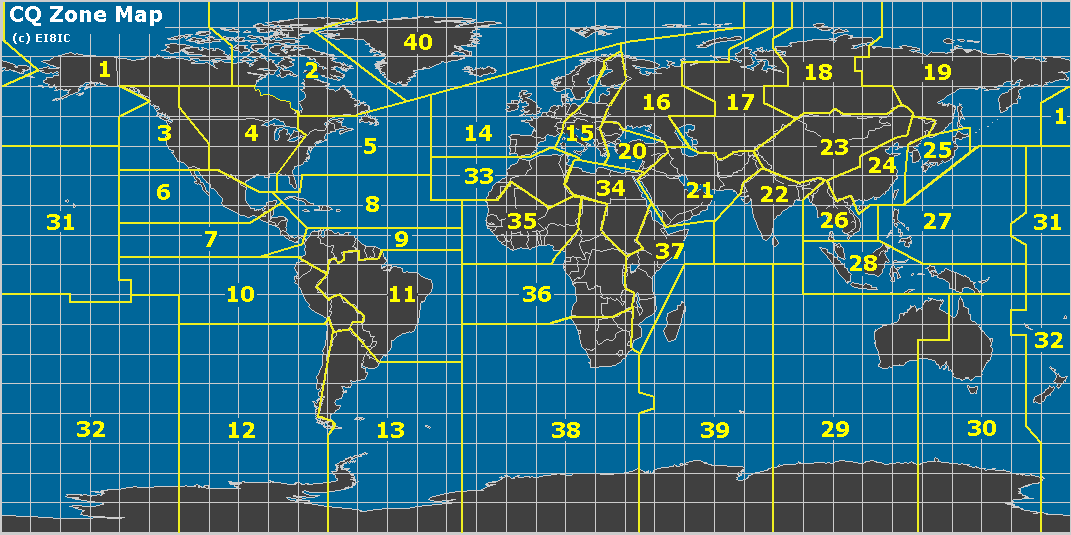 Figure 1. CQ Zone Map by EI8IC
For CQ Zone 5 - US East Coast
| | | | | | | | | | |
| --- | --- | --- | --- | --- | --- | --- | --- | --- | --- |
| Raro | UT | 80M | 40M | 30M | 20M | 17M | 15M | 12M | 10M |
| 15 | 1 | 0 | - - - | - - - | - - - | 5 26 S1 | 27 32 S1 | 44 36 S2 | 44 36 S2 |
| 16 | 2 | 0 | - - - | - - - | - - - | 23 31 S2 | 39 34 S2 | 23 23 S0 | 23 23 S0 |
| 17 | 3 | 0 | - - - | - - - | 0 12 S1 | 35 33 S2 | 23 23 S0 | - - - | - - - |
| 18 | 4 | 0 | 0 06 S1 | 0 06 S1 | 0 20 S3 | 27 26 S1 | - - - | - - - | - - - |
| 19 | 5 | 0 | 0 13 S3 | 0 13 S3 | 1 25 S3 | 20 21 S0 | - - - | - - - | - - - |
| 20 | 6 | 0 | 0 17 S3 | 0 17 S3 | 3 27 S3 | 14 17 S0 | - - - | - - - | - - - |
| 21 | 7 | 0 | 0 18 S3 | 0 18 S3 | 5 28 S4 | 13 15 S0 | - - - | - - - | - - - |
| 22 | 8 | 0 | 0 19 S3 | 0 19 S3 | 6 28 S3 | 11 14 S0 | - - - | - - - | - - - |
| 23 | 9 | 0 | 0 19 S3 | 0 19 S3 | 7 28 S3 | - - - | - - - | - - - | - - - |
| 24 | 10 | 0 | 0 17 S3 | 0 17 S3 | 6 26 S3 | - - - | - - - | - - - | - - - |
| 1 | 11 | 0 | 1 18 S2 | 1 18 S2 | 2 23 S3 | 8 09 S0 | - - - | - - - | - - - |
| 2 | 12 | 0 | 0 12 S1 | 0 12 S1 | 0 20 S2 | 25 26 S1 | - - - | - - - | - - - |
| 3 | 13 | 0 | 0 00 S0 | 0 00 S0 | 0 16 S1 | 51 38 S3 | 28 30 S1 | - - - | - - - |
| 4 | 14 | 0 | - - - | - - - | 0 01 S0 | 19 20 S0 | 11 13 S0 | - - - | - - - |
| 5 | 15 | 0 | - - - | - - - | - - - | 14 17 S0 | 9 12 S0 | - - - | - - - |
| 6 | 16 | 0 | - - - | - - - | - - - | 1 24 S1 | 42 36 S2 | 8 10 S0 | 8 10 S0 |
| 7 | 17 | 0 | - - - | - - - | - - - | 0 14 S0 | 32 35 S2 | 39 34 S2 | 39 34 S2 |
| 8 | 18 | 0 | - - - | - - - | - - - | 0 09 S0 | 13 31 S1 | 47 37 S2 | 47 37 S2 |
| 9 | 19 | 0 | - - - | - - - | - - - | - - - | 0 21 S0 | 42 36 S2 | 42 36 S2 |
| 10 | 20 | 0 | - - - | - - - | - - - | - - - | 0 19 S0 | 30 33 S1 | 30 33 S1 |
| 11 | 21 | 0 | - - - | - - - | - - - | - - - | 0 15 S0 | 37 35 S2 | 37 35 S2 |
| 12 | 22 | 0 | - - - | - - - | - - - | - - - | 0 19 S0 | 29 33 S1 | 29 33 S1 |
| 13 | 23 | 0 | - - - | - - - | - - - | 0 09 S0 | 1 22 S0 | 34 34 S2 | 34 34 S2 |
| 14 | 24 | 0 | - - - | - - - | - - - | 0 16 S0 | 10 27 S1 | 43 36 S2 | 43 36 S2 |
For CQ Zone 15 - Finland
| | | | | | | | | | |
| --- | --- | --- | --- | --- | --- | --- | --- | --- | --- |
| Raro | UT | 80M | 40M | 30M | 20M | 17M | 15M | 12M | 10M |
| 15 | 1 | 0 | - - - | - - - | - - - | - - - | - - - | - - - | - - - |
| 16 | 2 | 0 | - - - | - - - | - - - | - - - | - - - | - - - | - - - |
| 17 | 3 | 0 | - - - | - - - | - - - | - - - | - - - | - - - | - - - |
| 18 | 4 | 0 | - - - | - - - | 1 21 S2 | 6 07 S0 | - - - | - - - | - - - |
| 19 | 5 | 0 | - - - | - - - | 0 05 S0 | 9 11 S0 | - - - | - - - | - - - |
| 20 | 6 | 0 | - - - | - - - | 0 09 S0 | 14 17 S0 | - - - | - - - | - - - |
| 21 | 7 | 0 | - - - | - - - | 0 03 S0 | 27 26 S1 | 9 11 S0 | - - - | - - - |
| 22 | 8 | 0 | - - - | - - - | - - - | 25 25 S1 | 18 20 S0 | - - - | - - - |
| 23 | 9 | 0 | - - - | - - - | - - - | 23 25 S1 | 18 20 S0 | - - - | - - - |
| 24 | 10 | 0 | - - - | - - - | - - - | 28 28 S1 | 17 19 S0 | - - - | - - - |
| 1 | 11 | 0 | - - - | - - - | - - - | 28 28 S1 | 18 19 S0 | - - - | - - - |
| 2 | 12 | 0 | - - - | - - - | - - - | 28 27 S1 | 18 20 S0 | 8 10 S0 | 8 10 S0 |
| 3 | 13 | 0 | - - - | - - - | - - - | 28 27 S1 | 16 18 S0 | - - - | - - - |
| 4 | 14 | 0 | - - - | - - - | 0 04 S0 | 22 24 S1 | 13 15 S0 | - - - | - - - |
| 5 | 15 | 0 | - - - | - - - | 0 07 S0 | 9 12 S0 | - - - | - - - | - - - |
| 6 | 16 | 0 | - - - | - - - | 0 02 S0 | 6 08 S0 | - - - | - - - | - - - |
| 7 | 17 | 0 | - - - | - - - | - - - | 12 15 S0 | 13 16 S0 | - - - | - - - |
| 8 | 18 | 0 | - - - | - - - | - - - | 9 12 S0 | 8 10 S0 | - - - | - - - |
| 9 | 19 | 0 | - - - | - - - | - - - | 5 06 S0 | - - - | - - - | - - - |
| 10 | 20 | 0 | - - - | - - - | - - - | - - - | - - - | - - - | - - - |
| 11 | 21 | 0 | - - - | - - - | - - - | - - - | - - - | - - - | - - - |
| 12 | 22 | 0 | - - - | - - - | - - - | - - - | - - - | - - - | - - - |
| 13 | 23 | 0 | - - - | - - - | - - - | - - - | - - - | - - - | - - - |
| 14 | 24 | 0 | - - - | - - - | - - - | - - - | - - - | - - - | - - - |
For CQ Zone 25 - Japan
| | | | | | | | | | |
| --- | --- | --- | --- | --- | --- | --- | --- | --- | --- |
| Raro | UT | 80M | 40M | 30M | 20M | 17M | 15M | 12M | 10M |
| 15 | 1 | 0 | - - - | - - - | - - - | 0 11 S0 | 9 31 S1 | 46 37 S2 | 46 37 S2 |
| 16 | 2 | 0 | - - - | - - - | - - - | 0 15 S0 | 3 28 S1 | 51 38 S2 | 51 38 S2 |
| 17 | 3 | 0 | - - - | - - - | - - - | 0 23 S1 | 14 32 S2 | 68 42 S3 | 68 42 S3 |
| 18 | 4 | 0 | - - - | - - - | - - - | 2 28 S1 | 49 38 S3 | 66 42 S3 | 66 42 S3 |
| 19 | 5 | 0 | - - - | - - - | 0 05 S0 | 22 34 S3 | 69 42 S3 | 77 45 S3 | 77 45 S3 |
| 20 | 6 | 0 | - - - | - - - | 0 14 S1 | 54 39 S3 | 68 43 S3 | 74 48 S4 | 74 48 S4 |
| 21 | 7 | 0 | 0 09 S0 | 0 09 S0 | 1 23 S2 | 70 43 S4 | 82 48 S4 | 78 50 S4 | 78 50 S4 |
| 22 | 8 | 0 | 1 20 S2 | 1 20 S2 | 10 29 S4 | 76 45 S4 | 85 50 S5 | 80 51 S4 | 80 51 S4 |
| 23 | 9 | 0 | 9 27 S4 | 9 27 S4 | 21 32 S4 | 65 43 S4 | 71 48 S4 | 73 51 S4 | 73 51 S4 |
| 24 | 10 | 0 | 15 30 S5 | 15 30 S5 | 38 36 S5 | 66 45 S4 | 75 52 S5 | 72 50 S4 | 72 50 S4 |
| 1 | 11 | 0 | 14 31 S5 | 14 31 S5 | 44 37 S5 | 68 47 S5 | 74 51 S5 | 72 50 S4 | 72 50 S4 |
| 2 | 12 | 0 | 11 30 S5 | 11 30 S5 | 48 38 S5 | 74 50 S5 | 76 53 S5 | 71 49 S4 | 71 49 S4 |
| 3 | 13 | 0 | 8 30 S5 | 8 30 S5 | 52 38 S5 | 75 51 S5 | 76 53 S5 | 67 47 S4 | 67 47 S4 |
| 4 | 14 | 0 | 8 30 S5 | 8 30 S5 | 50 38 S5 | 67 47 S4 | 72 50 S4 | 54 40 S2 | 54 40 S2 |
| 5 | 15 | 0 | 4 27 S5 | 4 27 S5 | 46 37 S5 | 61 44 S4 | 47 37 S2 | 22 22 S0 | 22 22 S0 |
| 6 | 16 | 0 | 0 22 S4 | 0 22 S4 | 43 37 S5 | 45 35 S2 | 21 22 S0 | - - - | - - - |
| 7 | 17 | 0 | 0 17 S3 | 0 17 S3 | 28 34 S4 | 28 30 S1 | 26 25 S0 | 9 11 S0 | 9 11 S0 |
| 8 | 18 | 0 | 0 10 S2 | 0 10 S2 | 2 25 S3 | 37 32 S2 | 15 17 S0 | - - - | - - - |
| 9 | 19 | 0 | - - - | - - - | 0 16 S1 | 35 30 S2 | 26 25 S0 | - - - | - - - |
| 10 | 20 | 0 | - - - | - - - | 0 03 S0 | 51 38 S3 | 53 40 S3 | 18 20 S0 | 18 20 S0 |
| 11 | 21 | 0 | - - - | - - - | - - - | 23 34 S2 | 63 43 S3 | 62 44 S3 | 62 44 S3 |
| 12 | 22 | 0 | - - - | - - - | - - - | 1 25 S1 | 24 34 S2 | 60 43 S3 | 60 43 S3 |
| 13 | 23 | 0 | - - - | - - - | - - - | 0 14 S0 | 12 32 S1 | 51 39 S2 | 51 39 S2 |
| 14 | 24 | 0 | - - - | - - - | - - - | 0 11 S0 | 50 38 S3 | 51 38 S2 | 51 38 S2 |
For CQ Zone 14 EA - Western Europe
| | | | | | | | | | |
| --- | --- | --- | --- | --- | --- | --- | --- | --- | --- |
| Raro | UT | 80M | 40M | 30M | 20M | 17M | 15M | 12M | 10M |
| 15 | 1 | 0 | - - - | - - - | - - - | - - - | - - - | - - - | - - - |
| 16 | 2 | 0 | - - - | - - - | - - - | - - - | - - - | - - - | - - - |
| 17 | 3 | 0 | - - - | - - - | 0 11 S0 | - - - | - - - | - - - | - - - |
| 18 | 4 | 0 | 0 06 S1 | 0 06 S1 | 1 18 S1 | - - - | - - - | - - - | - - - |
| 19 | 5 | 0 | 0 10 S1 | 0 10 S1 | 3 20 S2 | - - - | - - - | - - - | - - - |
| 20 | 6 | 0 | 0 09 S1 | 0 09 S1 | 2 20 S2 | - - - | - - - | - - - | - - - |
| 21 | 7 | 0 | - - - | - - - | 0 19 S1 | - - - | - - - | - - - | - - - |
| 22 | 8 | 0 | - - - | - - - | 0 16 S1 | 8 10 S0 | - - - | - - - | - - - |
| 23 | 9 | 0 | - - - | - - - | - - - | 34 32 S2 | 9 11 S0 | - - - | - - - |
| 24 | 10 | 0 | - - - | - - - | - - - | 17 26 S1 | 29 27 S1 | - - - | - - - |
| 1 | 11 | 0 | - - - | - - - | - - - | 7 26 S1 | 40 34 S2 | 9 12 S0 | 9 12 S0 |
| 2 | 12 | 0 | - - - | - - - | - - - | 5 23 S0 | 37 33 S2 | 15 17 S0 | 15 17 S0 |
| 3 | 13 | 0 | - - - | - - - | - - - | 7 18 S0 | 27 26 S0 | 12 14 S0 | 12 14 S0 |
| 4 | 14 | 0 | - - - | - - - | - - - | 5 05 S0 | 7 08 S0 | - - - | - - - |
| 5 | 15 | 0 | - - - | - - - | - - - | - - - | - - - | - - - | - - - |
| 6 | 16 | 0 | - - - | - - - | - - - | 1 18 S0 | 18 21 S0 | - - - | - - - |
| 7 | 17 | 0 | - - - | - - - | - - - | 0 13 S0 | 11 23 S0 | 12 16 S0 | 12 16 S0 |
| 8 | 18 | 0 | - - - | - - - | - - - | 0 09 S0 | 7 20 S0 | 14 18 S0 | 14 18 S0 |
| 9 | 19 | 0 | - - - | - - - | - - - | 0 14 S0 | 5 16 S0 | 8 10 S0 | 8 10 S0 |
| 10 | 20 | 0 | - - - | - - - | - - - | - - - | 7 12 S0 | 7 09 S0 | 7 09 S0 |
| 11 | 21 | 0 | - - - | - - - | - - - | - - - | 6 11 S0 | - - - | - - - |
| 12 | 22 | 0 | - - - | - - - | - - - | 2 07 S0 | - - - | - - - | - - - |
| 13 | 23 | 0 | - - - | - - - | - - - | - - - | - - - | - - - | - - - |
| 14 | 24 | 0 | - - - | - - - | - - - | - - - | - - - | - - - | - - - |